Cook Islands 2016 Year Monkey Lunar 4 Coin Rectangle $1 Rectangular Silver Set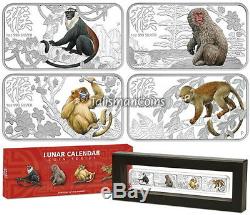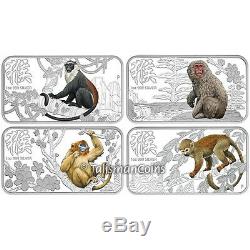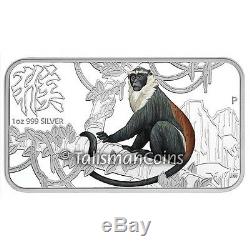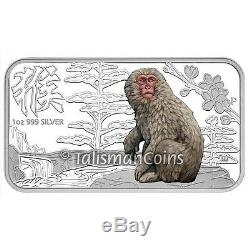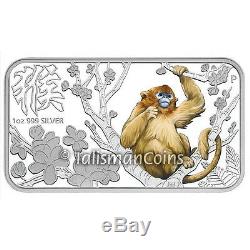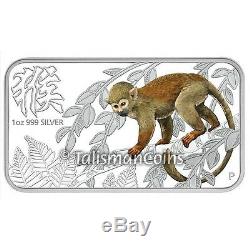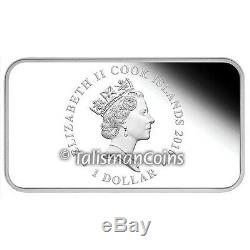 Silver dollars form an even-grander, rectangular scene inside this innovative display case, the better to celebrate 2016 as the Year of the Monkey! The Perth Mint has done it again! Large, beautiful rectangular coins in a brilliant display case, all featuring impressive color. And all struck in pure silver.
These coins are huge - at 47.60 mm wide, they are nearly 2 inches across! What's more, this set comprises the complete Year of the Monkey. Issues in 1 ounce rectangular form, featuring simians of four different colors and species! When you assemble the coins end-to-end (as they come in the display packaging), they come together to create a large, Oriental-style vignette.
Best of all, the mintage is limited to. Only 3,000 complete sets worldwide.
At our below-issue price, this set represents a tremendous value and a great investment! Create this Dramatic Tableau with All Four Monkey Rectangle Silver Dollars! Four Different Coins Combine to Make One Cohesive Scene!
There are four different monkey portraits, one per coin, each with a different colored species of monkey! Each monkey is in the foreground of a fantastic Oriental landscape, with forest behind and a running stream! Form a single outdoor scene when placed end-to-end in the order shown above. To highlight this tableau, the Perth Mint has developed an ingenious new presentation box that showcases all four silver proofs contiguously, thereby allowing display of the entire vignette while protecting the coins in an elegant, black framed case! The Year of the Monkey - Clever and Ingenious!
Centuries ago, the Chinese invented a calendar based on the lunar (rather than the solar) cycle. There are twelve animals in the Chinese lunar zodiac, each corresponding in sequence to a year rather than a month. Those born in the years 1908, 1920, 1932, 1944, 1956, 1968, 1980, 1992, 2004, and 2016 celebrate the Year of the Monkey. According to tradition, people born during a Year of the Monkey are said to exhibit that animals attributes.
They are clever - they can be inventors, entertainers, anything generally creative and ingenious, and can be somewhat mischievous (although not spiteful). They are also considered great socializers, being very charming and persuasive. The Monkey is traditionally depicted in Chinese mythology with a peach. Why would this be so? The monkey is clever, and so he offers the peach fruit to ward off evil spirits and appease the ghosts of his forebears - thereby guaranteeing the protection of his ancestors and bringing him good fortune and luck.
Monkeys are known for their intelligence and social ability, though they can be mischievous as well. Who doesn't love to go to the zoo and watch the primates play - although sometimes it's not perfectly clear whether we're watching the monkeys or they're watching us!
Who can forget Bubbles the Chimp, whom Michael Jackson befriended. Bubbles must have been a particularly smart monkey, because Wacko Jacko claimed that Bubbles cleaned up his bedroom!
Now that's one clever simian! Okay, chimpanzees are apes, and therefore technically not monkeys, but you get the point! To quote the Rolling Stones in the song called what else? "Monkey Man", I'm a monkey! The year 2016 is ruled by one of the most popular and auspicious of all the lunar zodiac signs - the ingenious monkey. The Chinese lunar zodiac animal that most closely resembles humankind.
The Monkey personality is supremely intelligent and charismatic, with boundless agility. He is highly social; the ultimate inventor, motivator and schemer. Even when you realize the Monkey has tricked you, your fondness and admiration for him will keep you from blowing your top. The Monkey is witty and charming; he will win your heart and keep it forever! The most intelligent sign in the Chinese lunar zodiac.
Those born in the Year of the Monkey. Are friendly and charming, and are able to use their brains instead of brawn to master a situation. This is the sixth annual release in the. Rectangular Lunar Zodiac Silver series. Previous issues in the Rectangular Silver Proof Sets. Get this set before it sells out at the Mint and increases in price! The Perth Mint of Australia employs its own proprietary colorization technology, in which the color is actually sealed on the coin. The vibrant hues and precise execution of the technology create a stunning, full-color portrait on each coin. Four different vignettes of different colored monkeys. Each set in an oriental-style landscape with forests and a running stream. The Chinese character for "Monkey" and the Perth Mint's "P" mint mark also occur. Her Majesty, Queen Elizabeth II. In crowned profile facing right. This portrait, featuring Her Majesty wearing a tiara and pearl drop earrings, was executed by the sculptor Raphael Maklouf. The legend ELIZABETH II, the date of issue and denomination also appear. The coins are encapsulated inside an elegant, oversize luxury frame-style case with a see-through sides that allows for the easy display of the coins, protected by a full-color outer box. An individually-numbered certificate of authenticity is included. 4 Dollars (4 x One Dollar). 124.54 g (4 x 31.135 g).
47.60 mm nearly 2 inches! Jennifer McKenna (obverse) Raphael Maklouf (reverse).
The Cook Islands are a self-governing parliamentary democracy in free association with New Zealand. The fifteen small islands in this South Pacific Ocean country have a total land area of 92.7 square miles (240 square kilometers), but the Cook Islands Exclusive Economic Zone (EEZ) covers 700,000 square miles (1.8 million square kilometers) of ocean. As of the 2006 census, the country has a total population of just under 20,000.
The main population centers are on the island of Rarotonga (14,153 as of 2006), where there is an international airport. There is also a much larger population of Cook Islanders in New Zealand, particularly the North Island. In the 2006 census, 58,008 New Zealanders identified themselves as being of ethnic Cook Island Maori descent.
With over 90,000 visitors traveling to the islands in 2006, tourism is the Cook Islands' number one industry, and the leading element of the economy, far ahead of offshore banking, pearls, marine and fruit exports. Defense is the responsibility of New Zealand, in consultation with the Cook Islands and at its request.
In recent times, the Cook Islands have adopted an increasingly independent foreign policy. The item "Cook Islands 2016 Year Monkey Lunar 4 Coin Rectangle $1 Rectangular Silver Set" is in sale since Friday, September 16, 2016. This item is in the category "Coins & Paper Money\Coins\ World\Australia & Oceania\Australia\Commemorative".
The seller is "talismancoins" and is located in Saint Louis, Missouri. This item can be shipped worldwide.
---