1973 COOK ISLANDS ELIZABETH II Coronation Proof Silver 2 Dollars Coin i76040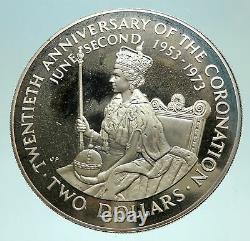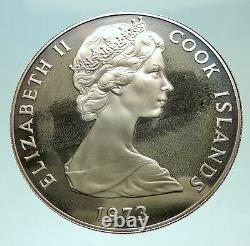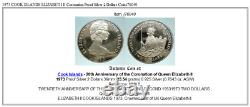 Item: i76040 Authentic Coin of. 20th Anniversary of the Coronation of Queen Elizabeth II 1973 Proof Silver 2 Dollars 39mm (25.54 grams) 0.925 Silver 0.7643 oz.
ASW Reference: KM# 8 TWENTIETH ANNIVERSARY OF THE CORONATION JUNE SECOND 1953·1973 · TWO DOLLARS ·, Queen Elizabeth II seated left. ELIZABETH II COOK ISLANDS 1973, Crowned bust of UK Queen Elizabeth II. Elizabeth II Elizabeth Alexandra Mary; born 21 April 1926.
Is, and has been since her accession in 1952, Queen of the United Kingdom, Canada, Australia, and New Zealand, and Head of the Commonwealth. She is also Queen of 12 countries that have become independent since her accession: Jamaica, Barbados, the Bahamas, Grenada, Papua New Guinea, Solomon Islands, Tuvalu, Saint Lucia, Saint Vincent and the Grenadines, Belize, Antigua and Barbuda, and Saint Kitts and Nevis. Elizabeth was born in London to the Duke and Duchess of York, later King George VI and Queen Elizabeth, and was the elder of their two daughters. She was educated privately at home. Her father acceded to the throne on the abdication of his brother Edward VIII in 1936, from which time she was the heir presumptive.
In 1947, she married Prince Philip, Duke of Edinburgh, with whom she has four children: Charles, Anne, Andrew, and Edward. Elizabeth's many historic visits and meetings include a state visit to the Republic of Ireland and reciprocal visits to and from the Pope. She has seen major constitutional changes, such as devolution in the United Kingdom, Canadian patriation, and the decolonisation of Africa. She has also reigned through various wars and conflicts involving many of her realms. She is the world's oldest reigning monarch as well as Britain's longest-lived.
In 2015, she surpassed the reign of her great-great-grandmother, Queen Victoria, to become the longest-reigning British monarch and the longest-reigning queen regnant in world history. Times of personal significance have included the births and marriages of her children, grandchildren and great grandchildren, her coronation in 1953, and the celebration of milestones such as her Silver, Golden and Diamond Jubilees in 1977, 2002, and 2012, respectively. Moments of sadness for her include the death of her father, aged 56; the assassination of Prince Philip's uncle, Lord Mountbatten; the breakdown of her children's marriages in 1992 (her annus horribilis); the death in 1997 of her son's former wife, Diana, Princess of Wales; and the deaths of her mother and sister in 2002. Elizabeth has occasionally faced republican sentiments and severe press criticism of the royal family, but support for the monarchy and her personal popularity remain high. The Cook Islands (Cook Islands Maori: Kuki'Airani) is a self-governing island country in the South Pacific Ocean in free association with New Zealand. It comprises 15 islands whose total land area is 240 square kilometres (92.7 sq mi). The Cook Islands' Exclusive Economic Zone (EEZ) covers 1,800,000 square kilometres (690,000 sq mi) of ocean.
New Zealand is responsible for the Cook Islands' defence and foreign affairs, but they are exercised in consultation with the Cook Islands. In recent times, the Cook Islands have adopted an increasingly independent foreign policy. Although Cook Islanders are citizens of New Zealand, they have the status of Cook Islands nationals, which is not given to other New Zealand citizens. The Cook Islands' main population centres are on the island of Rarotonga (10,572 in 2011), where there is an international airport.
There is a larger population of Cook Islanders in New Zealand itself; in the 2013 census, 61,839 people said they were Cook Islanders, or of Cook Islands descent. With about 100,000 visitors travelling to the islands in the 2010-11 financial year, tourism is the country's main industry, and the leading element of the economy, ahead of offshore banking, pearls, and marine and fruit exports. World-renowned expert numismatist, enthusiast, author and dealer in authentic ancient Greek, ancient Roman, ancient Byzantine, world coins & more. Ilya Zlobin is an independent individual who has a passion for coin collecting, research and understanding the importance of the historical context and significance all coins and objects represent. Send me a message about this and I can update your invoice should you want this method.
Getting your order to you, quickly and securely is a top priority and is taken seriously here. Great care is taken in packaging and mailing every item securely and quickly. What is a certificate of authenticity and what guarantees do you give that the item is authentic?
You will be very happy with what you get with the COA; a professional presentation of the coin, with all of the relevant information and a picture of the coin you saw in the listing. Additionally, the coin is inside it's own protective coin flip (holder), with a 2x2 inch description of the coin matching the individual number on the COA. Whether your goal is to collect or give the item as a gift, coins presented like this could be more prized and valued higher than items that were not given such care and attention to.
When should I leave feedback? Please don't leave any negative feedbacks, as it happens sometimes that people rush to leave feedback before letting sufficient time for their order to arrive. The matter of fact is that any issues can be resolved, as reputation is most important to me. My goal is to provide superior products and quality of service. How and where do I learn more about collecting ancient coins? Visit the Guide on How to Use My Store. For on an overview about using my store, with additional information and links to all other parts of my store which may include educational information on topics you are looking for. This item is in the category "Coins & Paper Money\Coins: World\Australia & Oceania\Other Oceania Coins". The seller is "highrating_lowprice" and is located in this country: US. This item can be shipped worldwide.
Certification: Uncertified
Denomination: Denomination_in_description
Year: Year_in_description

---