2015 Norse Gods 2 oz. Fine Silver 9-coin series, Cook Islands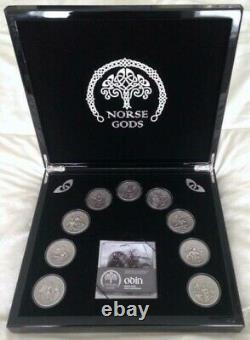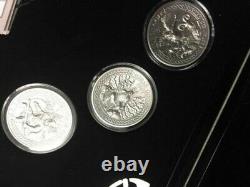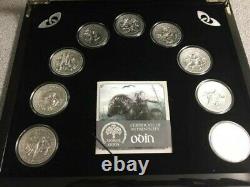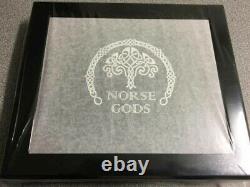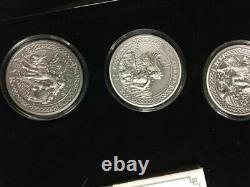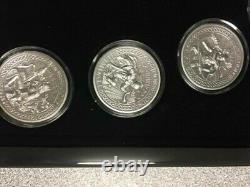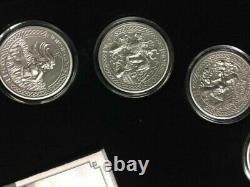 2015 Norse Gods - 2 oz. Fine Silver 9-coin series, Cook Islands. Coin 1: Odin The All-knowing "All Father" of the gods and King of Asgard. He was said to be known as the Lord of War, Death and Knowledge Coin 2: Thor Son of Odin, Thor was represented as the god of thunder, the sky, fertility and the law. He was known to be armed in battle with his famous hammer Mjölnir. Coin 3: Tyr Worshipped god of war, justice and order, he had only one hand, as the other had been bitten off by the wolf-like creature Fenrir. Coin 4: Hel The goddess of the dead and the afterlife, she was said to be portrayed as half dead, half alive herself. Coin 5: Heimdall The watchman of the gods who guarded the gateway to Asgard. He was represented as the sentinel god of light, security and surveillance.
Coin 6: Loki This god was a mischievous trickster who caused trouble, but was said to be a companion to both Thor and Odin. Coin 7: Sif Wife of Thor, was admired and known for her beautiful golden hair. Coin 8: Freyr This god of fertility was known to use the fertilizing powers of the sun and rain for bountiful harvests, wealth and peace.
Coin 9: Frigg Wife of Odin and Queen of Asgard, she was represented as the top Norse goddess of marriage and motherhood. Each coin is made of 2 troy ounces (62.2 g) of fine silver (99.9%) and is 38.6 mm in diameter (1.520 in). High-relief strike, antique finish, and smooth edge. The item "2015 Norse Gods 2 oz. Fine Silver 9-coin series, Cook Islands" is in sale since Wednesday, December 18, 2019.
This item is in the category "Coins\Coins\Pacific\Other Pacific". The seller is "garrydarcy2009" and is located in Greensborough, VIC. This item can be shipped worldwide.

---