2017 Cook Islands $5 MAGNIFICENT LIFE Cobra PCGS PR69 DCAM Silver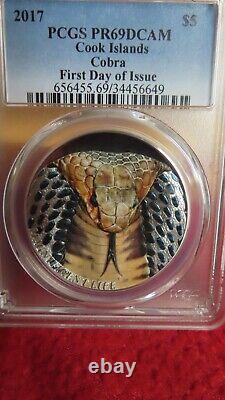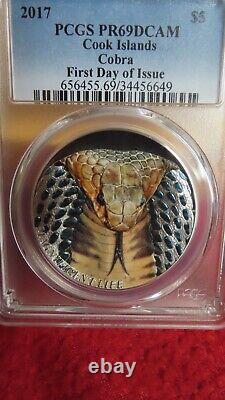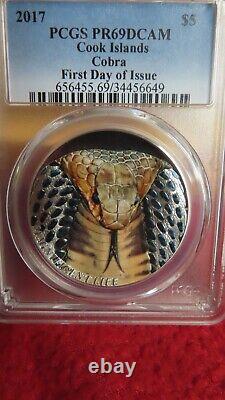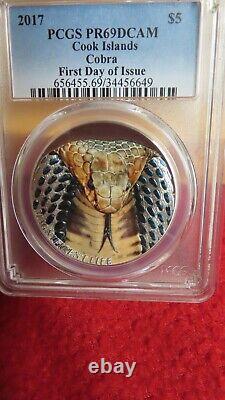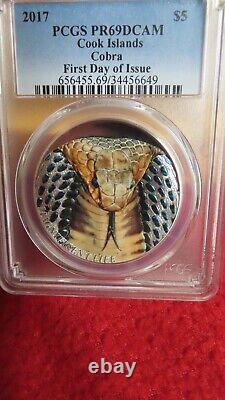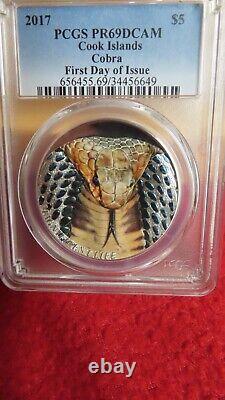 With a habitat stretching from South Africa to Southeast Asia, nearly thirty species of cobra rule the countryside, one of the most formidable snakes in existence. They possess a very potent neurotoxic venom that some species, so-called spitting cobras, are even able to spray at the eyes of an attacker. All of the known cobras are venomous and many are capable of rearing upwards and producing a hood when threatened, an image that has been used to great effect in art and film-and now in a fantastic new coin from the Cook Islands' Mayer Mint.
The 2017 Silver Cobra Magnificent Life Proof coin is the third coin in the Magnificent Life series, following the highly successful Peacock and Wasp Spider coins. This revolutionary technology in the field of modern numismatics allows for higher relief on standard weight coins, creating an astonishing concave background that is further enhanced with brilliant coloring.
The result is a coin that will quickly become the king of your international silver collection. If you secure yours in time. Stare into the eyes of one of the fiercest faces in the animal kingdom. Fear of snakes is one of the most universal phobias among humans and animals alike, but with a coin like the 2017 Silver Cobra Magnificent Life Proof coin, you'll have good reason to overcome your trepidation.
It contains one ounce of 99.9% fine silver, and stretches 38.61 mm in diameter-an impressive coin for an even more impressive image. A PREDATOR KNOWN THROUGHOUT THE WORLD. The snake's head and torso are colored a burnished brown, while the hood features rows of blue scales.
Inscribed on the reverse are the words MAGNIFICENT LIFE. The coin also features a distinctively serrated edge. The obverse of the coin depicts an elegant profile of Queen Elizabeth II, a design created by sculptor Ian Rank-Broadley.
Surrounding the queen are the inscriptions "ELIZABETH II", "5 DOLLARS", "COOK ISLANDS, " and the date 2017. " At the base of Queen Elizabeth II's profile are the designer's initials, "IRB. A coin this special is a rarity on its own, but adding to the fantastic design is the coin's remarkably low mintage of only 999 pieces. We expect demand to remain high for this coin, and quantities are very limited. Never intended for circulation, this coin will reach you in pristine proof condition.
It will arrive at your door housed in a plastic vinyl flip, and accompanied by a Certificate of Authenticity. Advances in numismatic technology continue to amaze, and never has that been more obvious than with the 2017 Silver Cobra Magnificent Life Proof coin.

---