2022 Cook Islands $5 Aba Panu Meteor Impact CIT (1oz Silver)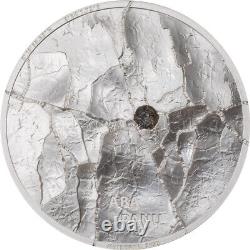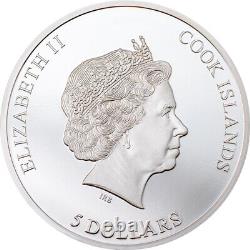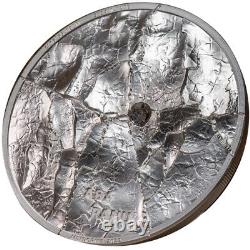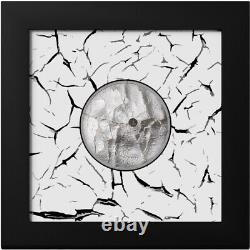 Mayer Kunstprageanstalt - Karlsfeld, Germany (1999-date). Currency: New Zealand Dollar (1972-Date). Condition: New - Mint Packaging.
Obverse: The Effigy of HM Queen Elizabeth II; Date below, country to right, denomination above. Reverse: Depicts the cracks cuased by the large fireball over the Nigerian state of Oyo.
The meteoroid, named after the village of Aba Panu, created a crater in the soil of Africa. A large fireball detonated over the Nigerian state of Oyo on the afternoon of April 19, 2018. A meteoroid entered the Earth's atmosphere. The extra-terrestrial rocks dug deep cracks and craters in the dry soil of Africa.
They were named after the village of Aba Panu, located near the centre of the strewn field. Every day, Earth is bombarded with more than 100 tons of dust and sand-sized particles from space. About once a year, an automobile-sized asteroid hits, creating a spectacular fireball event as the friction of Earth's atmosphere causes them to disintegrate. Coin condition is based on our professional opinion.
Pictures are representative of the coin that you will receive, actual coin may differ slightly, and serial numbers may vary. Infinity Coins is a full-time coin shop located in Idaho Falls, ID. We have a large inventory that moves fast and we only list very little on here so if there is something else you are looking for, please ask, we might have it.
This caps at 10 items, after 10 items each additional item is free. That being said, we do take our business seriously and we want to keep happy customers.
Because of the volatile nature of some of our products, market fluctuation IS NEVER a reason for return. We take our feedback very seriously. Please reference our Feedback Policies for more information.
If something was done or stated wrong on our part we will work hard with you to make it right. Being a professional coin dealer, any uncertified coins are listed with a grade that is our professional opinion of the grade. Other items listed with a grade are graded by a tier 1, recognized, grading service. Please look at and evaluate the coin for your own opinion. We will only leave feedback for buyers who have left us feedback first. You can send us a message and we will get back to you as soon as possible, we check our messages several times a day.

---