2022 Cook Islands Norse God Loki 2oz Silver Coin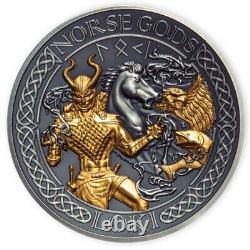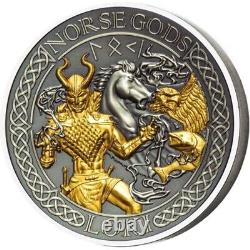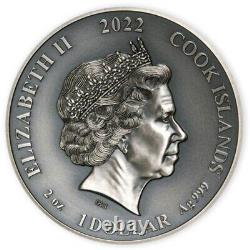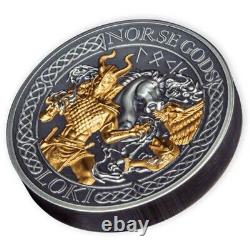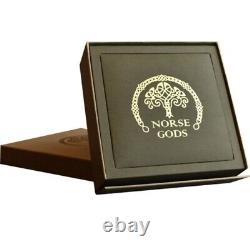 The Cook Islands is one of the many nations backing the issue of silver bullion coins with images of these gods. There are three particular Norse gods that have featured prominently in recent Norse God issues. Regardless of the mint issuing silver coins and rounds in honor of Norse Gods, the figures of Odin, Thor, and Loki have consistently appeared in these collections. In this limited-issue release, popular depictions of these gods have been finished with antique polishes and a beautiful, thin layer of 24-karat gold.
In Norse mythology, Loki is viewed as the God of Fire and Evil. Like many other gods of Norse mythology, Loki has both a human form and traditional stories of his figure taking on other forms. These other forms include the horse, eagle, and even a fish.
The reverse design of these coins features those symbols. Queen Elizabeth II is found on the obverse side of 2022 2 oz Cook Islands Silver Norse God Loki Coins. Her Majesty features here in right-profile relief wearing the Girls of Great Britain and Ireland Tiara. The design shown here is the fourth-generation design from the Royal Mint and was created in 1998 by Ian Rank-Broadley. Loki is depicted in the reverse field of 2022 Cook Islands Silver Norse God Loki Coins. This design shows Loki in the foreground with images of a horse, eagle, and fish in the background field. Loki, the eagle, and the fish have been completed with a thin layer of 24-karat gold for visual contrast. Both sides of the coin have an antique polish for enhanced visual brilliance.
These 2022 2 oz Cook Islands Silver Norse God Loki Coins are available to you with individual presentation boxes and a Certificate of Authenticity. Each coin has an ultra-high-relief strike creating greater visual depth to the background field and improved 3D appearance for the design elements. 2022 Cook Islands Norse God Loki 2oz Silver Coin. Year 2022 Mint Mark Not Shown Purity. Sorry, our items are NOT available for pick-up.
No additional information at this time. 2022 South Korea Chiwoo Cheonwang 1oz Silver BU Medal. 2023 Sweetheart Candy 3pc 30g Silver Set.
2022 Palau Lotus Flower 2oz Silver Colored Proof Coin. 2022 Palau Pillars of Creation & Black Hole 3oz Silver Black Proof Coin.

---