2023 Cook Islands $5 Brilliant Love Butterfly 20g Silver FDI PCGS PR69DCAM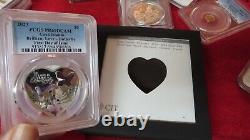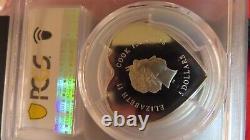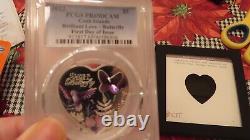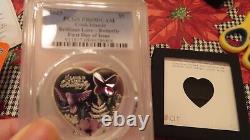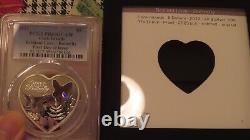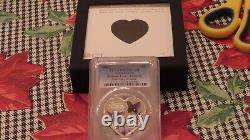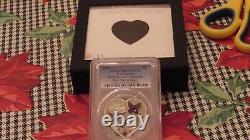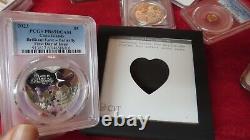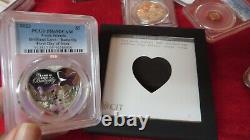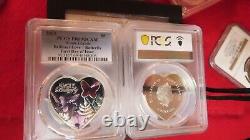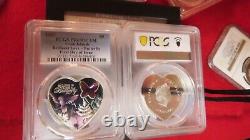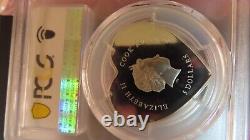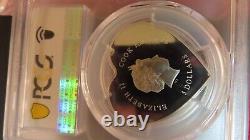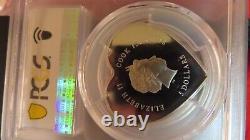 This Brilliant Heart-Shaped Coin Will Give You Butterflies! If you've ever been in love, you know what it's like to feel like you have butterflies in your stomach-that swoony sensation is one of the first signs of true love and romantic passion. Love Is Like a Butterfly. Country music star Dolly Parton summed up the feeling with the lyrics, Love makes your heart feel strange inside.
It flutters like soft wings in flight. Love is like a butterfly, a rare and gentle thing. Capture those amorous feelings now and forever with this exquisite heart-shaped proof that features a genuine Swarovski crystal inset in the shape of a butterfly!
Dazzling Proof Finish And Exquisite Details. As lovely as this coin's lavender-hued butterfly-shaped crystal is, the image of a colorized bird hovering over brightly tinted flowers perfectly contrasts with the gleaming brightness of its highly pure 99.9% silver. Struck by German's world-renowned Mayer Mint in 20 grams of fine silver, it also comes with a dazzling proof finish, meaning it was expertly crafted by the mint from hand-selected planchets, polished dies and multiple strikes to produce beautifully frosted details rising over mirror-like fields!
In addition, the Mint's colorization technique is an extremely subtle process that applies shading while maintaining the stunning luster of the metal. Entire Mintage Is Expected To Be A Quick Sell Out. With 2,023 available for worldwide release, these coins will not last long. HEART-SHAPED TRIBUTE TO EVER-LASTING LOVE. This heart-shaped coin is a tribute to ever-lasting love. It features a bird hovering over a flower in brilliant coloring along with an inscription that that reads, LOVE IS LIKE A BUTTERFLY. The coin's obverse is graced by the effigy of Queen Elizabeth II. Each coin in this release features the inclusion of a genuine a butterfly shaped Swarovski crystal integrated into the design.
STRUCK IN HIGHLY PURE SILVER. Each Brilliant Love Butterfly Crystal Heart Shaped Coin was struck by Germany's Mayer Mint in 20 grams of highly pure 99.9% fine silver and measures 37 mm x 37 mm. Only 2,023 have been struck for worldwide release so get yours now or run the risk of missing out!

---