Special Forces Real Heroes 2022 Cook Islands $20 Silver Coin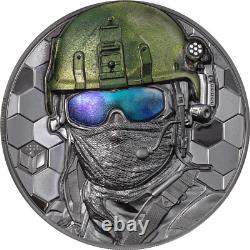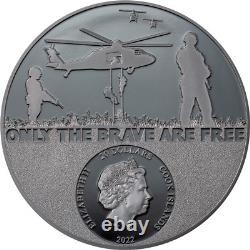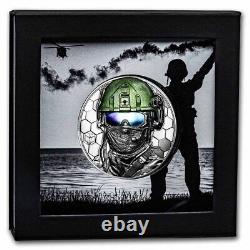 These heroes are the best of the best and are routinely called upon to carry out the most difficult and dangerous missions. Many of their missions are done in secrecy to carefully protect these heroes and their identity, which is exactly the feeling you get when you look at this coin.
Specialized uniforms and equipment are a telltale sign of a special forces soldier and these are displayed on this black proof finished coin in exceptional detail and in ultra-high relief! The soldier's protective goggles are expertly colorized to contrast his helmet and mask. It's a striking look that puts enemy forces on notice! The ultra-high relief of the design extends all the way to the edges and sets against a background of a honeycomb pattern and the Real Heroes logo. Just beside on the rim you can find the traditional motto of the special forces "de oppresso liber" in micro minting. The obverse shows special forces dropping in under the cover of night with the primal understanding that "Only the brave are free". This magnificent 3 oz black silver proof is limited to only 750 which makes them just as special and rare as heroes are! Low mintage of only 750 coins.
Comes in a frame box in the original capsule with a certificate of authenticity. Obverse: Depicts the silhouette of two soldiers standing guard while other men are being dropped from a helicopter. The obverse also displays portrait of Queen Elizabeth II by Ian Rank-Broadley surrounded by the name of the ruler, the issuing nation, the denomination, and the 2022 year-date. Reverse: Features a close-up image of a soldier wearing goggles, helmet and mask. The goggles and helmet are in stunning colorized Ultra High Relief and set against a polished honeycomb pattern.
Sovereign coin backed by the Cook Islands government. You don't want to miss out on this Special Forces Silver coin. Add this coin to your cart today!

---